Welcome to the Sept 11 Memorial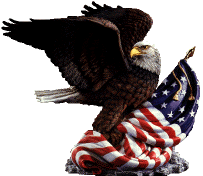 For More Information on Today's Top Stories: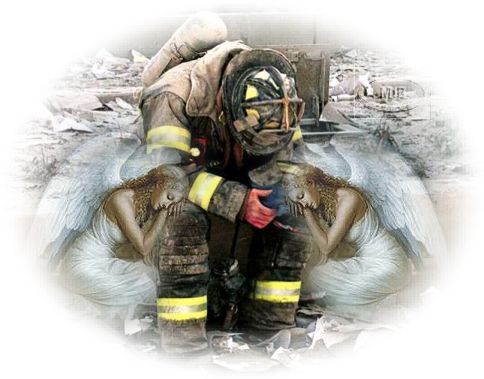 All of us will never forget the horrific event that happened on September 11, 2001. Two hijacked planes crashed into both towers of The World Trade Center, another crashed into a side of the Pentagon, and a fourth into an open field in Shanksville, Pennsylvania. After all was said and done, the twin towers were nothing but a giant pile of rubble, and 3,047 people were dead. Millions of people world wide came together to mourn in their own ways. A question I have is how can people hate us so much that they find it necessary to take the lives of innocent people. Life is not fair, and freedom is definitely not free. Especially for the people that worked in the Pentagon and the World Trade Center. I am designing this web page, not for people to learn about the attacks on September 11, but just as a way for all of us to remember the pain and suffering that the victims and their families had to go through. I have made a special guestbook below that I hope all of you will sign that tells what you think about September 11, and where you were when you found out, and how you reacted. I have a large amount of graphics from different people that I would like all of you to see. So, skim below, and look at the graphics, and remember to sign the mourning book, and you can also read where I was and how I reacted on September 11. May God Bless all of you, and may God bless all who died from September 11. Let's pray nothing like this ever happens again....ANYWHERE!! UNITED WE STAND, GOD BLESS AMERICA!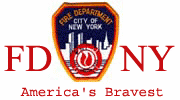 1111111111

1111111111

When I woke up on September 11, I just knew that it wouldn't be like any normal day. It was about 6:30am Central time, when I woke up. School began at 7:25am. I was a senior in high school, and it was a half day at school. That is what made it such a different day. After school, my friends and I were supposed to go over to one of their houses, watch movies, and eat pizza. Boy were we in for a surprise. I went to my first hour class, and we were listening to a guest speaker talk about his career as an attorney. While listening to him speak, the first plane was hitting the World Trade Center. It wasn't until my fourth hour, which was around 9:00am Central time that I found out what was going on. We were having a math quiz, and a girl walked in and asked the teacher to turn the radio on. I found that rather odd that someone would be asking to turn the radio on...especially since we were about to have a quiz. During the quiz, I could hear a man on the radio speaking in a very serious voice. I knew that the voice only meant one thing..... bad news. I leaned over to a friend of mine that was sitting to my left, and asked her what was going on. She was shocked that I had no clue what was going on. She told me that the World Trade Center and the Pentagon had been hit by planes. The information coming in was still very sketchy. My teacher announced in horror that the planes were hijacked after the quiz. Minutes after, our principal, Dr. Jones got over the intercom, and began to speak. "As most of you have probably already heard, a horrible act of terror has rocked this nation..." she then turned it over to Mr. Crow, a teacher at North that told us about what was going on. Nearly in tears as we could tell, he told us about the hijacked planes, and the World Trade Center collapsing. There are 7 hours in a day, so in our 5th, and 6th hour, we really just spoke about what was going on, and listened to the radio. In my 7th hour, I got to see the first images of New York City, and the Pentagon in Washington. The smoke that covered the New York skyline, was more than what I could bare. Mrs. DeWeese, my U.S. government teacher, which was my 7th hour class immediately said that it was Osama bin Laden who did it, she had a feeling. The images of people dancing in the streets in nations in Afghanistan, Isreal, Pakistan, just made me sick to my stomach. These evil people, how could they be celebrating. Anger overpowered me, and all I wanted to do was kill these evildoers....not myself, but I felt they needed to pay just for celebrating such a horrible and evil attack. But then once again, I started mourning, and thinking of my best friend that lives in New York City...Brooklyn to be exact I find out later on that he was alright, but saw it all happen when he was in downtown Brooklyn. We still went over to my friends house. We listened to it on the radio on our way there, and then we watched it for a little while on TV, until we were all there, and the pizza was there, we went downstairs to watch Gone in 60 seconds, but I wasn't in the mood to watch a movie, all I cared about was what was going on in the counry. I went back upstairs and watched TV, as a few of my other friends did as well. We stayed over for a while, until I was ready to go home. I got home, and my dad was downstairs putting our pool table together that had been delivered that day. That is a main outline of my story. I wish that I wasn't around to see this happen, and I really wish that these selfish and zealous morons would never have done such a thing. 3,047 innocent lives were taken in less than a few days. Why can't this world just live in peace? There is nothing we can do about each other. We are all here, and we are here to stay for the time being. They may try and make our great and strong nation fall, but what they don't know is we are too powerful to ever fall under their terms. If they want war, than war is what they will get.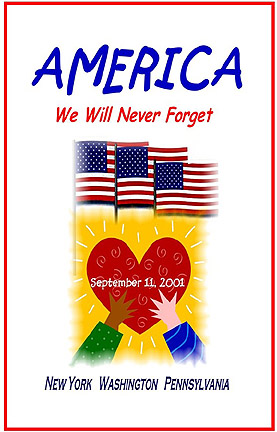 September 11 is a day that will be etched in our minds forever. From the images of the first plane hitting, to the images of the second plane hitting, the colapse and fall of the WTC, and of the Pentagon. From the blood curtling screams of people, and the deathly bird sounds of the police sirens being clogged from all the dust and debris. I hope that this nation will still grow strong from this attack, bring the people that did this to justice, and prevent any and all attacks against the U.S. in the future. God Bless AMERICA, and God Bless the armed services.
11111111111111111111

Many many many people lost their lives on September 11. I designed a web page in dedication and in memory of all that lost their lives. By clicking next, you can see the 3,047 crosses that I designed for all the victims.
Now that I have shared my September 11 experience wth you, I would love to hear about your September 11 experience, or how you feel about the attacks. But might I warn you that if I think your message could be offensive, I will remove it without notice. Please sign it. Thank you very much.

View My Guestbook
Sign My Guestbook

September 11 is a day that affected everyone througout the whole nation and world. Let's hope and pray that nothing like this ever happens again, and if it does, remember that we can always count on our emergency service personnel to help us out. Thank you Emergency Service Personnel.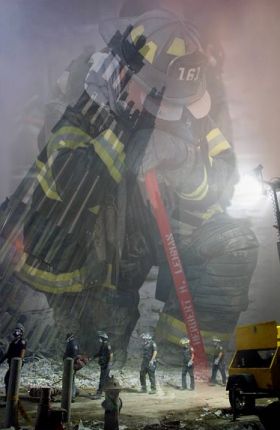 Probably two of the most famous pictures that were sent around were these pictures of an eagle crying and the 3 firefighters raising the flag above the World Trade Center Site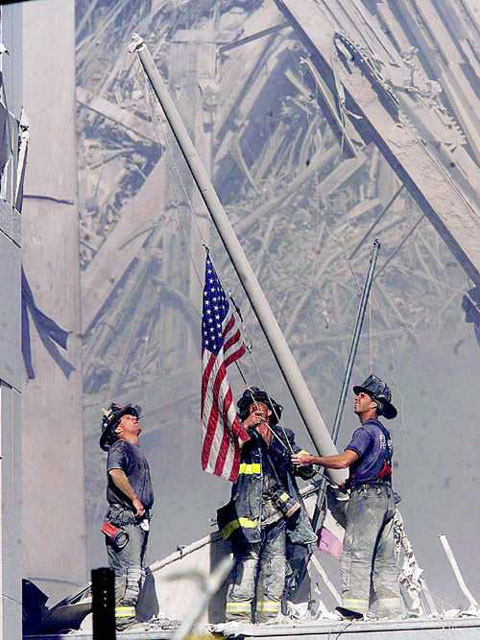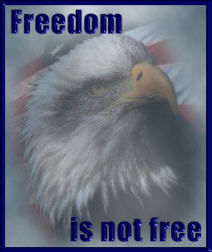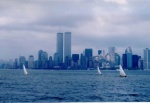 September 10, 2001

THis beautiful picture of the New York skyline shows the 6 month anniversary of 9/11, with the 2 beams of light shining up to the sky, as though they were shining up to heaven.
March 11, 2002.
Thank you so very much for coming. I hope that you found this web site as touching as I did. Please come again. This web page will be a permanent memorial of September 11, 2001. It will be updated every once in a while. The New Outreach Organization will be reopening tomorrow, September 12, 2002 at 12:00am. Thank you again for coming.

11111111111111111111

© Copyright 2002. All Rights Reserved. The New Outreach Organization and Zach's World